"Who put her in charge?"
"The US Air Force."
~Entity~
Welcome to JanetFraiser.com!

"Heroes"
JanetFraiser.com would like you to invite you to participate in a special section of the site, devoted to the season seven episodes "Heroes" and "Heroes, Part Two". Now includes a special tribute video, as played at SG8.

Stargate SG-1: Chrysalis
Chrysalis is a Stargate virtual mini-season hosted by JanetFraiser.com. To read the episodes, see the artwork and find trailer videos, head over to http://chrysalis.janetfraiser.com/!
On this site you'll find a wide variety of features all focusing on Stargate SG-1's Doctor Janet Fraiser. It's hoped that with time and your help, it can become the largest collection of fan material related to the character to be found in one place on the net. Some of the features included are...
| | |
| --- | --- |
| Chrysalis | JanetFraiser.com is proud to host "Stargate SG-1: Chrysalis - Virtual Season 7.5". |
| Episodes | Janet-focused episode reviews, musings, transcripts and listings of episode-based fanfiction, videos and artwork. |
| Fanfiction | Any category, any pairing. All fics featuring Janet as a main character will be accepted to this index. |
| Music Videos | As with the fanfiction index, all videos specifically featuring Janet are welcome. |
| Artwork | An index of some of the wonderful Janet artwork out there, including wallpapers made exclusively for JanetFraiser.com by SNY. |
| Messages | Share your views about Janet Fraiser, and her portrayal by Teryl Rothery - past, present, and future... |
| "Heroes" | A special section of the site dedicated to the events of the season seven two-parter "Heroes". |
If you have any material you'd like to submit to the indexes, or you'd like to contribute to this site in some way, please visit our submissions page!
Above all, we hope you enjoy this site, and come back again to keep an eye out for new updates. Have fun!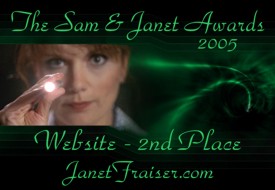 59359 visitors since 4th March, 2003
Disclaimer: The contributors to this site do not own Stargate SG-1 or any of the characters therein, nor do they claim to. That right belongs to MGM/Gekko/Double Secret. No copyright infringement is intended. This website is not authorised by anyone associated with Stargate SG-1, nor is it intended for any commercial benefit.